---
<! -- -->

Customer Reviews

Write a Review

Ask a Question

Filter Reviews:
supplements
Trachea
products
pain
body
company
issues
organs
everyone
life
06/13/2022
Nicole

United States
Ancestral Supplements for the win!!
I have noticed a pretty significant difference already and it's only been one week! I haven't had any bad headaches or migraines recently and my facial pain has definitely gone down a lot. It's not fully gone yet but, with as much as it's already gone down, I have full confidence it'll be gone pretty soon! Thanks so much for your recommendations! Once again, Ancestral Supplements for the win! You all really are the best!
06/10/2022
Ali

United States
Energy / Covid
Since I've been taking the liver, BTC and bone marrow, I have felt a significant improvement in my energy. I also just started the adrenal (only 1 cap a day). I just got Covid and it felt like a mild cold - I can't say the same for my colleagues that got it too. I shook it off no problem while maintaining a good level of energy. I'm very grateful, so thank you!
04/27/2022
Teresa

United States
Great Product
I'm taking many of the supplements. Slowly bringing them up to 6 a day. This product trachea is helping my knees to feel better. Still recovering from knee surgery so it is helping quite a bit. I feel much more energetic and clear minded on all of them. Like my body just is so happy to have real nutrition. Cleaned up my diet also so I feel great.
04/23/2022
Doug G.

United States
Great Product, Great Company
This company and their products are top shelf. I have been using BTC as part of my stack to recuperate from cancer treatments. I also take beef organs, colostrum, bone and marrow, ****, tallow and ancestral minerals. My 4 children get liver and bone and marrow daily.
04/14/2022
Timothy S.

United States
A must have for Scoliosis inflammation
I have been taking these consistently for over 3 years to help treat the inflammation in my back caused by scoliosis. I genuinely have little to no discomfort these days I believe because I take these in addition to most of the other products they offer. Very high quality products that truly have worked wonders for myself personally as well as everyone I've convinced to invest.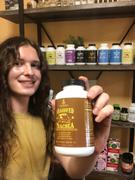 04/13/2022
Sandra P.

United States
Trachea
Everything is going fantastic with these unique products. I just started with Beef Heart 2 days ago. Thyroid is working wonderfully, no more cold feet and hands, I take 8 capsules in the morning. Also I am taking Collagen, Bone and Marrow, Beef Tallow, Trachea. Beef Organs I decreased the quantity because I was increasing Thyroid.
04/10/2022
Vicki H.

United States
EXCELLENT Product!
I've been using the Grass-fed Trachea for about 2 months now and I feel it is really helping me to heal from the inside out; mainly helping my intestines to heal. I have had no side effects and I feel healthier than I have for the past 2 years. Thank you Ancestral Supplements!
04/08/2022
Nancy L.

United States
Revived and Feeling Great!
normally
03/28/2022
judd o.

United States
Overwhelmed by the first week results.
I'm still on the 2 of each at this time. And I have to say this is incredible. I have been dealing with this pain for about 5 years and after a week it has almost vanished. I say almost as it's not 100%, but this is the first time since the accident I have been able to walk with out a limp. I had no idea how much the pain was effecting my life, constant depression, zero motivation and drive. My motivation has returned, getting a home gym started and I have finished 3 projects that have been sitting dormant for years. I can't thank you enough for helping me. I am so grateful and I will be telling everyone I know that if they have chronic pain to contact the staff at ancestral. I can honestly say my life has changed in a week.
03/15/2022
Pamelia C.

United States
Grassfed Trachea
This supplement has been helping tremendously with my knee/joint pain. I have been recommending it to others I know with similar situations. Very thankful for Grassfed Trachea.
03/11/2022
Vicki H.

United States
New to Ancestral Supplements
So far, I feel that the Trachea supplement and Intestine supplement have been helping me a lot. I've only been taking them for almost a month and I do have to say my gut seems to be in a much more stable place. I hope it continues to aid in healing over the next few months. Thank you for the great products.
02/19/2022
Marianne W.

Canada
Trachea for rotator cuff tendonitis
From my experience this was the most useful product I ever bought in terms of supplements. It's all natural, meaning nothing synthetic or artificial has been added, which I believe is the way to go and after nine years of pain in my shoulder I'm finally pain free. I'm not saying I'm healed, I think I have to be careful with repetitive motions for possibly the rest of my live, but his finally took the pain away for me. I couldn't lie on my right side for longer than a couple of minutes, without aggravating it and now sleeping on my right side is no problem at all. I would give this a million stars and would recommend the product to anybody with joint pain.
02/09/2022
Paul N.

United States
Excellent product
Since taking this product I have felt so much better. It really has delivered where it said it would. The pain in my joints has lessed so much, and I have only started by taking 3 pills a day. I look forward to purchasing different products because I know how much this one helped me and lived up to what it said it would do.
02/01/2022
monise s.

United States
supplements
Overall I am tolerating all of the supplements that I take. I started with beef and organs and the results were immediate, energy!
12/31/2021
Rachna

United States
Tracheal Cartilage
My experience with this company has been great. Brian Johnson replies very quickly with recommendations and detailed explanations for his recommendations. He answers with sincerity regardless of purchase. This specific product, Tracheal Cartilage, along with Bone and Marrow has been a life saver for my older fur baby. His problems began about 2 to 3 years ago when he was given four non essential vaccinations together. He showed signs of lameness and weakness in his hind legs. This continued for a couple of days. Out of the blue, I thought of Ancestral supplements and emailed Brian. I had been myself experimenting with some of the supplements, on and off. I hadn't yet started them for my fur babies. He responded quickly with recommendations and a complimentary bottle of the Tracheal Cartilage. I purchased the Bone and Marrow along with that and the lameness completely disappeared. I continued with those for some time. I got comfortable and stopped. When I noticed deterioration again, I realized that it was the absence of Ancestral supplements. I have not stopped since. On and off, I have tried several supplements for different issues with my senior fur baby. Tracheal Cartilage is a constant supplement for him though. Thank you Brian
12/26/2021
Debi H.

United States
Much improved tendinitis
I just want to say that the bovine tracheal cartilage helped my tendinitis dramatically after only two or three weeks of use.