---
<! -- -->

Customer Reviews

Write a Review

Ask a Question

Filter Reviews:
supplements
Trachea
products
body
pain
company
issues
organs
energy
everyone
04/14/2022
Timothy S.

United States
A must have for Scoliosis inflammation
I have been taking these consistently for over 3 years to help treat the inflammation in my back caused by scoliosis. I genuinely have little to no discomfort these days I believe because I take these in addition to most of the other products they offer. Very high quality products that truly have worked wonders for myself personally as well as everyone I've convinced to invest.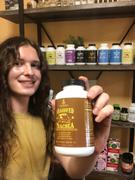 04/13/2022
Sandra P.

United States
Trachea
Everything is going fantastic with these unique products. I just started with Beef Heart 2 days ago. Thyroid is working wonderfully, no more cold feet and hands, I take 8 capsules in the morning. Also I am taking Collagen, Bone and Marrow, Beef Tallow, Trachea. Beef Organs I decreased the quantity because I was increasing Thyroid.
02/19/2022
Marianne W.

Canada
Trachea for rotator cuff tendonitis
From my experience this was the most useful product I ever bought in terms of supplements. It's all natural, meaning nothing synthetic or artificial has been added, which I believe is the way to go and after nine years of pain in my shoulder I'm finally pain free. I'm not saying I'm healed, I think I have to be careful with repetitive motions for possibly the rest of my live, but his finally took the pain away for me. I couldn't lie on my right side for longer than a couple of minutes, without aggravating it and now sleeping on my right side is no problem at all. I would give this a million stars and would recommend the product to anybody with joint pain.
02/09/2022
Paul N.

United States
Excellent product
Since taking this product I have felt so much better. It really has delivered where it said it would. The pain in my joints has lessed so much, and I have only started by taking 3 pills a day. I look forward to purchasing different products because I know how much this one helped me and lived up to what it said it would do.
02/01/2022
monise s.

United States
supplements
Overall I am tolerating all of the supplements that I take. I started with beef and organs and the results were immediate, energy!
12/31/2021
Rachna

United States
Tracheal Cartilage
My experience with this company has been great. Brian Johnson replies very quickly with recommendations and detailed explanations for his recommendations. He answers with sincerity regardless of purchase. This specific product, Tracheal Cartilage, along with Bone and Marrow has been a life saver for my older fur baby. His problems began about 2 to 3 years ago when he was given four non essential vaccinations together. He showed signs of lameness and weakness in his hind legs. This continued for a couple of days. Out of the blue, I thought of Ancestral supplements and emailed Brian. I had been myself experimenting with some of the supplements, on and off. I hadn't yet started them for my fur babies. He responded quickly with recommendations and a complimentary bottle of the Tracheal Cartilage. I purchased the Bone and Marrow along with that and the lameness completely disappeared. I continued with those for some time. I got comfortable and stopped. When I noticed deterioration again, I realized that it was the absence of Ancestral supplements. I have not stopped since. On and off, I have tried several supplements for different issues with my senior fur baby. Tracheal Cartilage is a constant supplement for him though. Thank you Brian
12/26/2021
Debi H.

United States
Much improved tendinitis
I just want to say that the bovine tracheal cartilage helped my tendinitis dramatically after only two or three weeks of use.
12/12/2021
Erick

United States
Definitely worth it
This stuff has helped me so much with my overall health. I've had acid reflux really bad for the longest time which is why I reached out to this company the owner responded back saying this would help. I'm glad I listened and emailed them, this stuff works awesome my acid reflux has gone way down. I definitely feel better, I've paired this up with a few other products from this company. They are all great I feel so much better overall. I'd definitely recommend and do recommend to everyone to atleast try these products before you spend money on other products. Will buy from again.
12/12/2021
Robert F.

Canada
12/07/2021
Layne G.

United States
Inflammation
When I first started taking Ancestral's GrassFed Trachea I was in a bit of a funk. Feeling tired, down, lack of usual energy etc. After a few days of taking the supplement I noticed a significant change in my mood and energy levels, I can only assume the poor energy levels and moods were caused by inflammation somewhere in the body that I was not used to. Highly recommend grabbing this one to help combat inflammation! High quality as usual with Ancestral's products.
12/05/2021
Brian C.

United States
Amazing
I have been using this the Trachea supplement for about 5 weeks, and it has delivered from start until now. Amazing products, company, and owner. If you have an issue with your body, no matter what it is, I recommend you give Ancestral Supplements a try. If you not sure what to get, review the various supplements they have on Amazon, or their website.(I used both). And contact the company and they will be more than happy to recommend what you need based on your situation. I can tell you I have less joint pain, and more stamina than ever. I am now able to start to exercising, and I have been trying to get "Healthy" for a long time. This products gives me encouragement and hope! Good luck.....
12/03/2021
Heather A.

United States
Love Trachea, love everything from Ancestral
I started taking Trachea this summer. I was experiencing bad back and hip pain. I was going to the chiropractor and doing all the exercises but still could not sleep through the night. I would wake up with my hips literally burning. I read some reviews and decided I had nothing to lose. It did take a while, but within a couple of months I was sleeping through the night and having much less pain. I also take Beef Organs, Heart, Thyroid, and Minerals. I don't know if it's the Trachea, but I also have the best fingernails of my whole life. I had one finger that I had given up on ever growing a nail above the quick and now it's got a fingernail for the first time in 20+ years. I also had covid this summer and attribute much of my quick recovery to the supplements. Brian is super helpful with advice and knowledge.
11/19/2021
Veronica O.

United States
It's a Godsend!
My husband and daughters all take the Trachea for joint pain. They all say they can definitely tell when they forget to take it. I'm so thankful we found something all- natural that really works!
11/18/2021
Melina

United States
Support your body
Both of my dogs had been dealing with tracheal collapse for a while. Since I was already using Ancestral Supplements, I decided to give their trachea a whirl. I noticed a difference immediately! (Tracheal collapse causes this distinct cough, which stopped as soon as they got on this) My dogs are both now completely healed, and this product was the only change that I made for them.
11/13/2021
Patrick P.

United States
Much-needed relief
This product is living up to what I was hoping for I'm still in the early stages of taken with the recommended dosage I am feeling a little relief in my joints and back I am looking for to reaching the total dosage and the customer service has been excellent!
10/14/2021
Wanita M.

United States
Great Trachea
I take this almost every day along with my other organs, keeps me healthy and going in the right direction. My health has improved dramatically and energy levels are tip top.