---
<! -- -->

Customer Reviews

Write a Review

Ask a Question

Filter Reviews:
supplements
energy
Adrenal
company
difference
fatigue
stress
life
health
Thyroid
07/12/2022
Meg B.

United States
Adrenal Formula and Thyroid Formula
This has made a huge difference in my energy and well being along with the other products I take from the company
07/12/2022
Susan H.

Canada
Amazing company and products
The beef liver is a absolute must. As Is the thyroid if you are on the low scale on thyroid function. I started taking it when doctor recommended that I take a prescription thyroid med. My levels are balanced out and I no longer have any sympthoms of low thyroid.. If one is looking to improve well being and health then these supplements are well worth it.. Now Also the company, my first order was lost! And they refunded my order and sent out a replacement order free of charge. I cannot say enough on the supplements and the company.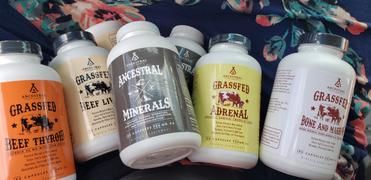 07/11/2022
Samantha

United States
Adrenals for your adrenals
I started taking the adrenals to help with blood sugar balance and just the overall feeling that my adrenals were "fried" if that makes sense. I was starting to have trouble sleeping and was struggling to handle stress. The adrenals have definitely helped with that feeling. I did have a little stomach pain if I took one away from a meal. Taken with food I've had no adverse affects.
07/10/2022
Matthew D.

United States
These are life changing
After finding this company and their supplements, I started trying the liver and then slowly moving into different accessories that they have. I was able to not only feel better and perform better in the gym in life, but I am now alcohol-free Because of it.
07/08/2022
Rebekah R.

United States
Amazing
Felt great literally day I started taking these. I probably could never mentally eat liver alone and raw. So this alternative is amazing. My friend has been nauseous for 2 years and no drs could find out why. She started the whole beast powder and hasn't felt nauseous since. HIGHLY RECOMMEND
07/07/2022
Aisha

United States
High Quality Products
I have been taking the Brain, Colostrum, Spleen, Wild Fish Eggs, Adrenal, and Bone and Marrow for about 3 months now and that combination is working so great! I feel SO stable. All of these have helped with my anxiety and overall brain function. I can't say thank you enough to Ancestral Supplements for creating such quality products that actually give you your health back!
07/04/2022
JoAnn F.

United States
Purchase of Grassfed Adrenal
Thank you for the supplement I received. This is the one I needed and will continue with it. It is very satisfactory, as are the other products I have taken.
07/04/2022
Lisa F.

United States
Holy grail supplement
This adrenal has helped me so much , this and the thyroid I have many more but these two are my staples and so grateful for clean products and amazing customer service
07/01/2022
Jonn P.

United States
Best Vitamins on the markets
I have spent thousands trying different vitamins and 90% of the time I feel no different and it seems like my body doesn't absorb the nutrients. So to say these supplements work and you can feel them is the highest compliment I can give. My wife struggled with adrenal fatigue for years and these helped a ton. Do your part to give these supplements a chance by being strict on your diet, exercise, and daily outdoors time because nothing is a cure-all but I promise if you do your part these supplements will do theirs.
06/21/2022
Shayna A.

United States
Incredible
The Adrenal supplement is a game changer for me! In the not so distant past, my lab work showed me that my cortisol curve was, well, not curved at all. My cortisol is basically a flat line 24 hours a day from many many years of running on empty and sleep deprivation due to raising kids… I also deal with hypothyroidism and related metabolic issues. Needless to say I was having a hard time getting up in the mornings, afternoon crashes, and difficulty falling asleep at night. Within a few days of starting adrenal I started feeling more awake and excited to be alive. Then I started working on creative projects, going for walks and just generally feeling motivated. Then I noticed I didn't need my nightly melatonin supplement anymore to fall asleep, and I now easily hop out of bed in the morning. I'm excited to do more lab work and see where I'm at, but based on how I'm feeling this, in addition to the several other Ancestral ***** concoctions I take, is righting my ship!
06/16/2022
Mary B.

United States
Best Adrenal Supplement - Powerful
Back a year or so ago, I was so tired I didn't know what I was going to do. No really, it was debilitating. I read the reviews for Ancestral Supplements and decided to try this one, as I had figured out this was my problem. My NP wanted me to try some they sold, but I had already bought these and boy, I am I glad I did!! After taking ONE, I could tell a difference! As I continued to take it, I was able to function again and have a normal life. `I cannot express adequately how much these supplements have helped me! Since stress affects the adrenals, I keep these on hand, as I know they are the best and I do not want to be without them.
06/15/2022
Ronnie P.

United States
To your Health!
My Naturopathic Dr recommended that I take Adrenal and Bone. Overall I felt much stronger and followed up with a purchase of Liver, Heart and Trachea. This combination has improved my energy and most of all reduced inflammation throughout my body from an auto-immune condition. A great elixir! PS - The company will help you navigate the website to make sure the supplements you buy are targeting your needs.
05/29/2022
Cathy W.

United States
Energy levels up!
I am typically low on B vitamins and haven't been supplementing lately. My latest blood test showed normal levels of B vitamins and the only thing I attribute to the new readings is the BEEF LIVER I buy from you so thank you very much!! I also use the adrenal and thyroid and seem to have more level moods and energy even with Hashimoto's Hypothyroidism lingering in the background!!
05/02/2022
Joshua W.

United States
04/24/2022
Nicholas B.

United States
Premium quality results for a premium quality product.
All of the symptoms of weak adrenals - Low or high blood pressure, anxiety, low energy, etc. Have all drastically improved in the time I've used these glandulars. This company is the real deal and the owner is wonderful. Do not hesitate to purchase. This is definitely a strong product and as always with glandulars starting slow is a must. The dose I take daily is 3 (throughout the day) but it took a few weeks to work up to that. If you struggle with weak adrenals, these can definitely help pick them up.
04/15/2022
Terry P.

United States
watching for changes
ordering and receiving your product was very simple and fast. Watching for changes is a slow are arduous process. I can say what we are giving is having no adverse reactions, but not sure it is helping with the response we are looking for. It is still early in our dosing, so I am not too concerned. In fact, I am looking at adding in the thyroid version to our routine. Hormones are a funny thing to work around and responses take time. I am just happy to have found your company and to use your products. thank you.